Sometimes, a little change goes a long way in energizing us and making us feel good, like a fresh hair cut or a new sweater. When it comes to your home, it's not always easy to think of changes that won't hurt your bank account. One of the easiest ways to give your house a face lift on a budget is painting your front door!
A bright, bold front door can brighten up your home  without going over the top with color. A deep blue or bright navy goes great with brick, while lighter blues look amazing with white siding. Green is a color popping up everywhere this year, and a deep emerald or a springy light green can help you get rid of the winter blues. If you're feeling really ambitious and have a wooden door, stripping the paint and doing a nice rich stain makes for a clean, craftsman look.  There's always welcoming red and classic black or gray if you want something more traditional, but don't hesitate to pick a color to bring out your home's personality!
If the siding on your house is a neutral, don't be afraid to go with a bolder color to stand out. With homes that have brightly colored siding already, natural wood, neutrals, and pale colors work well to complement the siding. If you want to go color on color, make sure they're complimentary to each other and don't compete in boldness of color.
Also consider the style of your door and home exterior when choosing a color. If you have a French provincial mansion, neon purple might not flow so well with the rest of the house. The doorknobs, knockers, glass panes, and other details can make a difference as well, so give them a little TLC or switch it up when you get ready to paint!
Here are some of my favorite examples of how a front door can be a game changer for your curb appeal: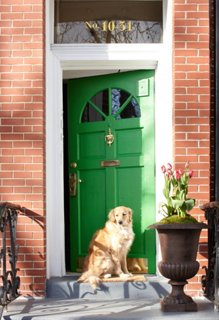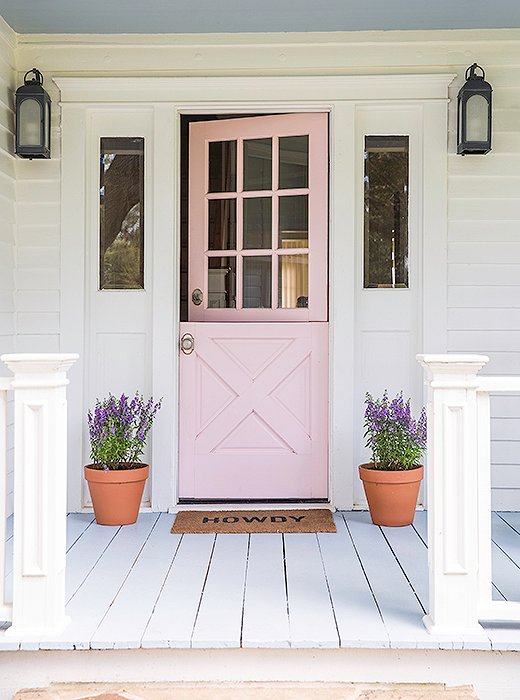 Yellow Door – Link (she even has a tutorial!)
Painting the front door is an easy and inexpensive update for your home that can give you some extra curb appeal. For more tips follow the links below the pictures, send me an email, or follow me on Pinterest for some more house love!
From my home to yours,
Mary Allison